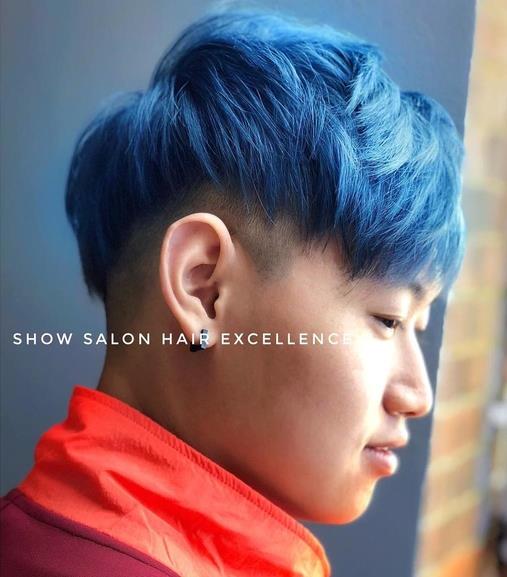 SHOW SALON EASTWOOD
WELCOME TO OFFICIAL SHOW SALON BOOKINGS WEBSITE SHOW SALON HAIR BOUTIQUE is a premium salon located in the heart of Eastwood's CBD district specialising in precision cutting and hair colour, we also offer digital perm and Japanese straightening service SHOW salon is a new designer salon that combines the traditional methods of hairdressing with modern techniques to create truly unique long lasting styles without any compromise on quality SHOW is different as we take pride in each one of our customers individually,providing highly experienced stylists with the technical knowledge to customise the look you desire CLICK on the services tab on the left to select a suitable time, date & service to make a booking today! (CLIENTS PLEASE BE ADVISED THERE IS NO LIFT ACCESS TO THE SALON,ITS ADVISABLE TO LEAVE CHILDREN AT HOME IF POSSIBLE) ---------------------------------------------------------------------------------------------------------- CUSTOMER TESTIMONIALS 2018 I had my haircut here yesterday. I must tell you that May is such a lovely lady. She took her time and discussed in detail with me what look I wanted to achieve. In the process, you forget you are in a salon. She is just like your friend. She really understands the client's needs and is very patient and calm. I came in there with my hair looking limp and lifeless and May helped me achieve exactly what I wanted: fresh, voluminous and a healthy looking hair. The hair wash was a complete pamper, slow and relaxing, which normally you don't get in any other salon in Sydney. They use Oribe shampoo and conditioner which is a complete indulgence. I even bought myself the Oribe Shampoo and it's Supershine product from them and I have already tried it today. It is amazing. And oh yeah, not to forget, the ambience of the Salon is very elegant. Thanks again May for the wonderful haircut and your superb hospitality. First class! ~Vadana Sinam I went for a cut and colour at Show Salon recently, excited to see the store fitout for their new location. It's now closer to Eastwood station and easier to get to. The interior looks great and very comfy while waiting. The service was great, I was well relaxed and looked after, and I'm very happy with my new look (lightened my dark brown to a caramel colour). I had a rough idea of what I wanted, and Martin and May were happy to answer all my questions to pick out just the right colour. Because colouring sometimes takes a while, I'm glad that Show Salon stays open a bit later. I was able to fit my appointment in after work without needing to rush or leave early. While they're great all round, they do killer balayage and colouring too - I'd definitely recommend Show Salon for any colouring work. ~ Barney Desmond " 我很喜欢 May 帮我做的头发 。总是在剪之前, 她花很多时间和我讨论发型,帮我设计, 所有的朋友都称赞我的新发型, 非常感谢 " ~ Tiffany Chen " May has a fantastic attitude toward her work, customers and life in general: she really is expert in her field and really understands hair ,I highly recommend her" ~ Lina Turian "我是一個很善變的女孩,常常去不同的髮廊換髮型。幾個月前經朋友介紹去了 SHOW SALON。因為我家在 Ryde, 去 Eastwood 很近,而且她的 salon 就在 Eastwood 韓國街很容易找,非常方便 我個人很喜歡 May 因為她會很用心去了解我想要什麼讓後給我很多好玩的意見。她很 cool 很有時尚感令我有新嘗試。我一直想試剪短但是都不敢,但當遇到 May,看到她那個 bleached short hair 就覺得她應該弄短頭髮會能得不錯。剪完後當然沒有讓我失望,超級愛呢 ❤️ !!! 我覺得她當她每個客戶是朋友,不只是一個普通客人,會很貼心的照顧,餓了還會有超好吃的蛋糕盒熱茶呢! 我覺得salon的環境佈置的好可愛但不失 May 的個人時尚風格,尤其是那張 Designer 沙發" ~ Taegan Chen How can I put words into this? Amazing experience and quality skills puts this salon in a different tier, as a first time customer Martin made the whole experience alot more comfortable and enjoyable. Highly recommend :3 ~ Bill Chung Martin and May are the nicest people you will meet, friendly services and really cater to the customer. They are always encouraging you to try new things and are full of style ideas plus they have great advise and extensive knowledge, I always used to get the same style cut being to scared to change but they really helped me come out of my shell in style!! Must visit their salon its so cool tucked away as soon as you step in it's a whole new world and I've never been to a salon like it. This is the only place I'm getting my hair cut from now on 😬😍😍. ~Kevin Aido
SHOW SALON EASTWOOD
MAY.X

TECHNICAL DIRECTOR @ SHOW SALON HAIR BOUTIQUE

For more than a decade May has maintained a reputation for unprecedented client service, exceptional knowledge of fashion trends, and has an eye for all the little details that make any look & style sing May worked in a variety of leading and iconic studios, including Franck Provost & People,May was the official stylist for 2014 Miss Asia Pageant National Grand Final:Her work has been featured in a number of widely circulated publications including Bride To Be Magazine 2014 BOOK MAY TODAY!

MARTIN.C

HAIR DESIGNER @ SHOW SALON BOUTIQUE

Martin is Shows veteran Mens haircut & grooming aficionado: As a perfectionist Martin will patiently shape and sculpt the most ideal shape for you Martin strong background in graphic design,visual arts allows him to utilize his understanding of shape and geometry merging classical with contemporary styles resulting in long lasting unique hairstyles sure to impress With a hawk like attention to detail Martin is sure to deliver and customize the look you so desire BOOK MARTIN TODAY!
SHOW SALON EASTWOOD
SHOW SALON EASTWOOD
Level 2 , Shop 7/120a Rowe Street, EASTWOOD NSW 2122, Sydney
(02) 98740956
Tuesday

Wednesday

Thursday

Friday

Saturday

Sunday

11:00am - 7:00pm

11:00am - 7:00pm

11:00am - 7:00pm

11:00am - 7:00pm

11:00am - 7:00pm

11:00am - 7:00pm
CASH PAYMENT PREFERRED & EFTPOS AVAILABLE
Eftpos Facilities available, Cash prefferred
Visa, mastercard, Royal pay, AMEX Accepted
BY APPOINTMENT ONLY (Walk ins accepted )
Book to secure a time & date today, !
0298740956